On Thursday 25 May 2023, the Office for National Statistics released record net migration figures of 606,000 and explored new ways of estimating population statistics. In this article, researchers from Oxford's Leverhulme Centre for Demographic Science assess the demographic implications for the UK. 
Provisional long-term international migration figures, published on Thursday by the Office for National Statistics (ONS), estimate a slight increase in net migration at 606,000 for 2022. Most people arriving to the UK in 2022 were non-EU nationals (925,000), followed by EU (151,000) and British nationals (88,000). 
The ONS notes that relatively high levels of immigration over the past 18 months are partly driven by unique events such as people arriving from Ukraine and Hong Kong. Non-EU nationals arriving on humanitarian routes increased from 9% in 2021 to 19% in 2022 whilst those arriving for study related reasons decreased from 47% to 39% over the same period. 
Whilst there is a rise in non-EU immigration, the ONS figure below also shows a noticeable fall in EU nationals and stagnation for British nationals.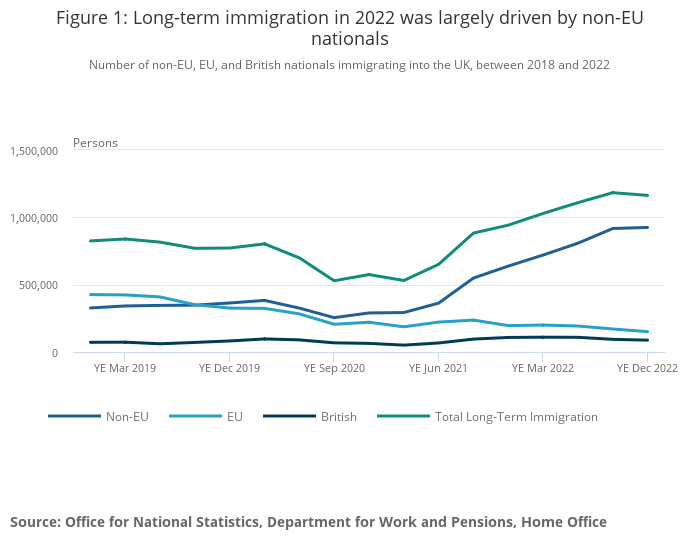 This is reflected in the ONS figures for emigration which have increased from 454,000 in 2021 to 557,000 in 2022, partly driven by the 2021 cohort of international students starting to leave the country.
These figures come days after the UK's Prime Minister said that legal migration is 'too high' and the UK government announced plans to scrap the right for foreign postgraduate students to bring family with them to the UK, in an effort to curb immigration. 
Professor Melinda Mills, Director of the Leverhulme Centre for Demographic Science adds, 'There are concerns that the change will make the UK a less attractive place to study, with students from certain countries disproportionately affected.'
A 2018 survey, conducted by our Connecting Generations collaborators at the Centre for Population Change (CPC), reinforces this with two thirds of respondents thinking that the UK was a less attractive place to live for non-UK nationals following the EU referendum. The study also found that nearly nine out of 10 students who intended to leave the UK after graduating did so.
Alongside the net migration figures, ONS also released an article that explored new ways to shape and enhance migration and population statistics. 
Dr Francesco Rampazzo, Lecturer in Demography at Oxford's Leverhulme Centre for Demographic Science and Department of Sociology adds, 'It is reassuring to see the ONS combining multiple data sources and taking into account 'parallel lives' where people may hold multiple residencies.'
The ONS article welcomes feedback on new ways to improve its population statistics. Researchers at the Leverhulme Centre for Demographic Science have been using digital trace data to monitor internal displacement in Ukraine and to better understand migration. 
A study that used Facebook data, led by Dr Francesco Rampazzo, revealed that there were 25% more European migrants in the UK in 2018 than the ONS statistics suggested, and an additional 20% in 2019. Social media advertising data is becoming widely used within social science research as it provides a digital census of the population.
Dr Francesco Rampazzo concludes, 'Whilst the ONS figures released today show that total net migration has increased, this does not tell the whole story with EU migration decreasing. We are monitoring this trend which we expect to see continuing in the next year. More research on this to follow!'