Phase 2 of Mapineq Link has been unveiled by the project team at Oxford Population Health's Demographic Science Unit, the Leverhulme Centre for Demographic Science and the Department of Economics, Econometrics and Finance at the Faculty of Economics and Business, University of Groningen.
Mapineq Link is part of the EU-funded project Mapineq, to identify and tackle the main drivers of inequality trends with a focus on educational, socioeconomic and health inequalities and their interdependence across the life course.
Mapineq Link is an ambitious geospatial environmental database, providing researchers with a rich open-access resource and API access that researchers can use to seamlessly integrate geo-linked policies into their own projects.
Phase 2 of 4 builds upon the foundations outlined in phase 1 which focused on preparing the database infrastructure and collecting socio-economic policy indicators.
This second phase expands the database infrastructure further by incorporating primary environmental data that encompasses four geospatial data types: point, line, raster, and polygon. These data are organised into five thematic modules: earth and natural landscape, built landscape, administrative boundaries, climate and environment, and demographic and socioeconomic indicators (see figures below).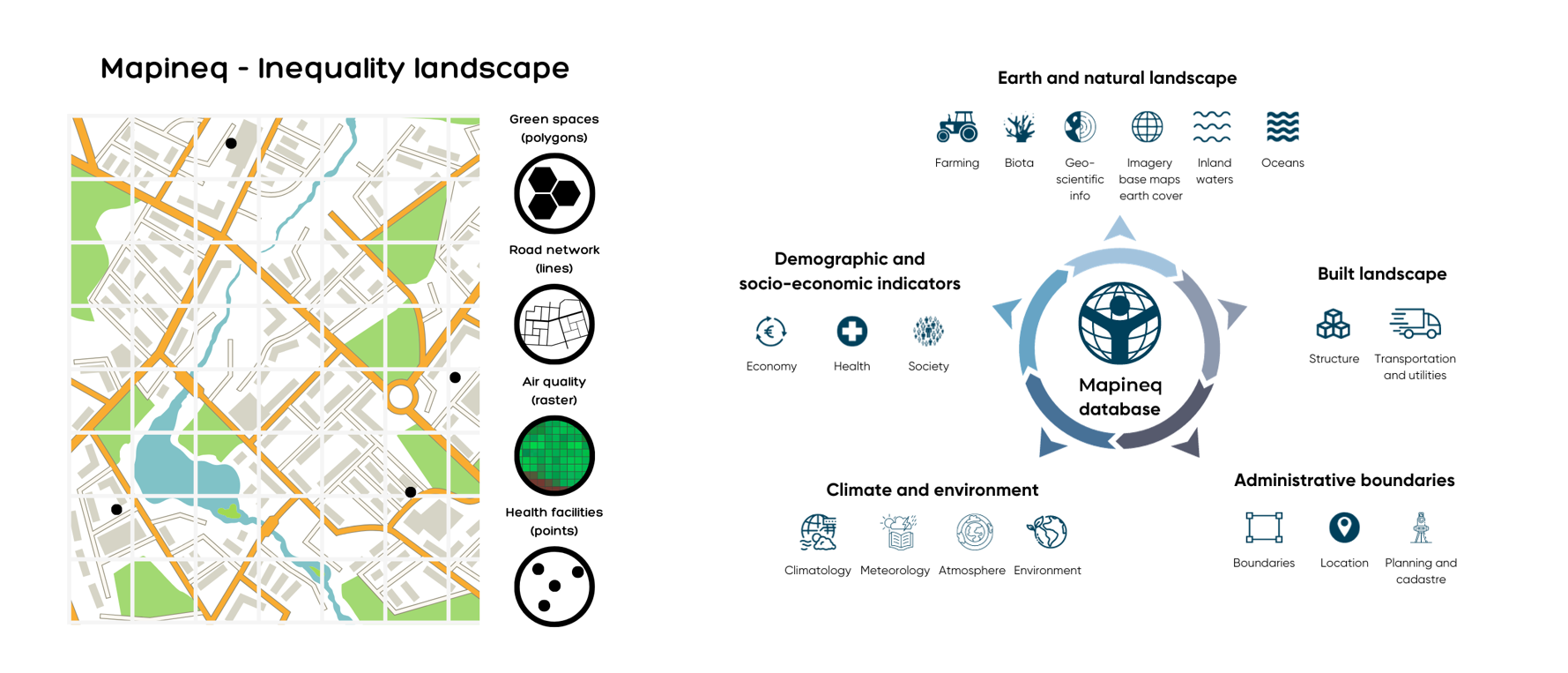 Dr Douglas Leasure, Senior Researcher and Data Scientist at the Demographic Science Unit and Leverhulme Centre for Demographic Science adds, 'The inclusion of this environmental data is significant because it acknowledges that both social and physical environments shape the opportunities and outcomes that we experience, potentially contributing to the geography of inequality and changes over time.'
Mapineq Link aims to revolutionise inequality and life course research. The database and API will equip researchers, policymakers, programmers, data scientists, web developers, and other stakeholders with geospatial data to improve our understanding of how an individual's local context influences inequalities.
Professor Melinda Mills, project lead and Director of the Demographic Science Unit and Leverhulme Centre for Demographic Science at the University of Oxford, and Professor of Data Science and Public Health Policy at the University of Groningen, concludes, 'Mapineq Link improves upon existing databases by harmonising data from multiple sources, introducing more precise geospatial indicators, enabling links between geospatial and individual-level data, and expanding subject coverage from both bottom-up and top-down data sources.'
Phase 3 of Mapineq Link will continue to expand the database landscape by incorporating innovative socio-economic indicators from commercial and unconventional sources, such as housing and rental prices. In the next phases in 2024, the project will further develop user-friendly API functionality for seamless data exploration and search.